Dogs of the World
Rachel, having been transported overseas and away from her beloved fur children, has been making do with random pictures of other peoples pooches. All of the posts have been what you expect from RachelLucas, that is, clever and sweet. This particular description, however, really struck a chord with me - I love big dogs and I love her enthusiasm.
And this last beast. MY GOD. We were having dinner on a sidewalk cafe, and he walked by with his owner, and I couldnít help but muttering holy shit! because he was a giant. You canít tell his sheer mass or dog-to-human scale in the picture, but he was at least 135 pounds, maybe more; that collar would fit around most normal-sized womenís waists. But he did not boast, not of his size nor of his charming brindle coat. He just laid down and cooled out, and what are you gonna do about it? Nothing, my friend. Except possibly harness him and have him pull your wagon across the frontier.
In related news, still have my fingers crossed for these two.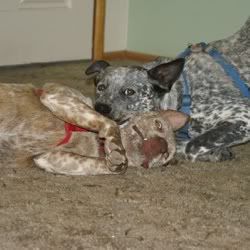 The rescue lady is doing a home visit Sunday - hope we all get along.
Posted by Vox at May 13, 2009 10:31 PM | animals