Birthday Follow Up
I got several early birthday wishes, including a video greeting courtesy of Lori. Love, love, love it. I actually have the album (OK, cassette) with that song on it - no, not the Pretty In Pink soundtrack, Happy Birthday I love Clare Grogan and had to buy the album after watching her in Gregory's Girl.
The day was pretty uneventful, but the evening was awesome. D took me out for dinner; blue cheese crusted fillet, garlic mashed potatoes, steamed broccolli....yummy.
And the gifts - perfect!
Two CD's; Invincible (off my wish list) and Little Bit of Life (because he knows me so well he knew I would love it). Both are awesome.
I was pretty sure I would love the Invincible soundtrack as soon as I saw the movie - I was right. Great old tunes.
Craig Morgan was a sweet choice, having taken me to his concert, D knew I was a fan. Morgan is one of those performers that really seems to get what he is doing; he loves writing, he loves performing, he loves his fans... He is a joy to see in concert, and his music is really a soundtrack to a simple happy life.
He also got me two books:
Stumbling on Happiness was on my wish list, also. It was a really good choice, I was exactly in the mood for this fascinating book.
This isn't a "c'mon get happy" how-to, it is an exploration of how we process feelings. Particularly our memories and our predictions about the future. Why is it, for instance, that the things we expect to cause us the greatest grief most often don't, and the things we are convinced will lead to our ultimate joy are so often not right for us after all.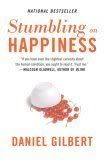 Our brains have a unique structure that allows us to mentally transport ourselves into future circumstances and then ask ourselves how it feels to be there. . . . Our ability to project ourselves forward in time and experience events before they happen enables us to learn from mistakes without making them and to evaluate actions without taking them. If nature has given us a greater gift, no one has named it. And yet, as impressive as it is, our ability to simulate future selves is by no means perfect. When we imagine future circumstances, we fill in details that won't really come to pass and leave out details that will. When we imagine future feeling, we find it impossible to ignore what we are feeling now and impossible to recognize how will will think about things that happen later.
The Sinatra Treasures was not on my wish list (mostly because I didn't know it existed) but, once again, he knows me well enough to pick a great gift. Such an amazingly great book. Stuffed to the gills with pictures and paraphernalia, this is more treasure chest than tome.
Just to top it off, when I told D how much my mother liked this book, he went out and bought a copy for her.


My mother outdid herself with the birthday flowers this year, choosing some stunningly beautiful purple orchids. Unfortunately, she tried 1-800-flowers, a choice she says she will never make again. I have to agree, their service was way below standard. It all got worked out in the end (5 days later) but the impression they left lingers on. Fortunately, so do the orchids :-D.
Thanks to everyone who made my birthday sweet, despite my sour anticipation. Another year, another dollar...or something like that.
Posted by Vox at July 31, 2007 11:38 AM | personal